A City Made by Women: New Perspectives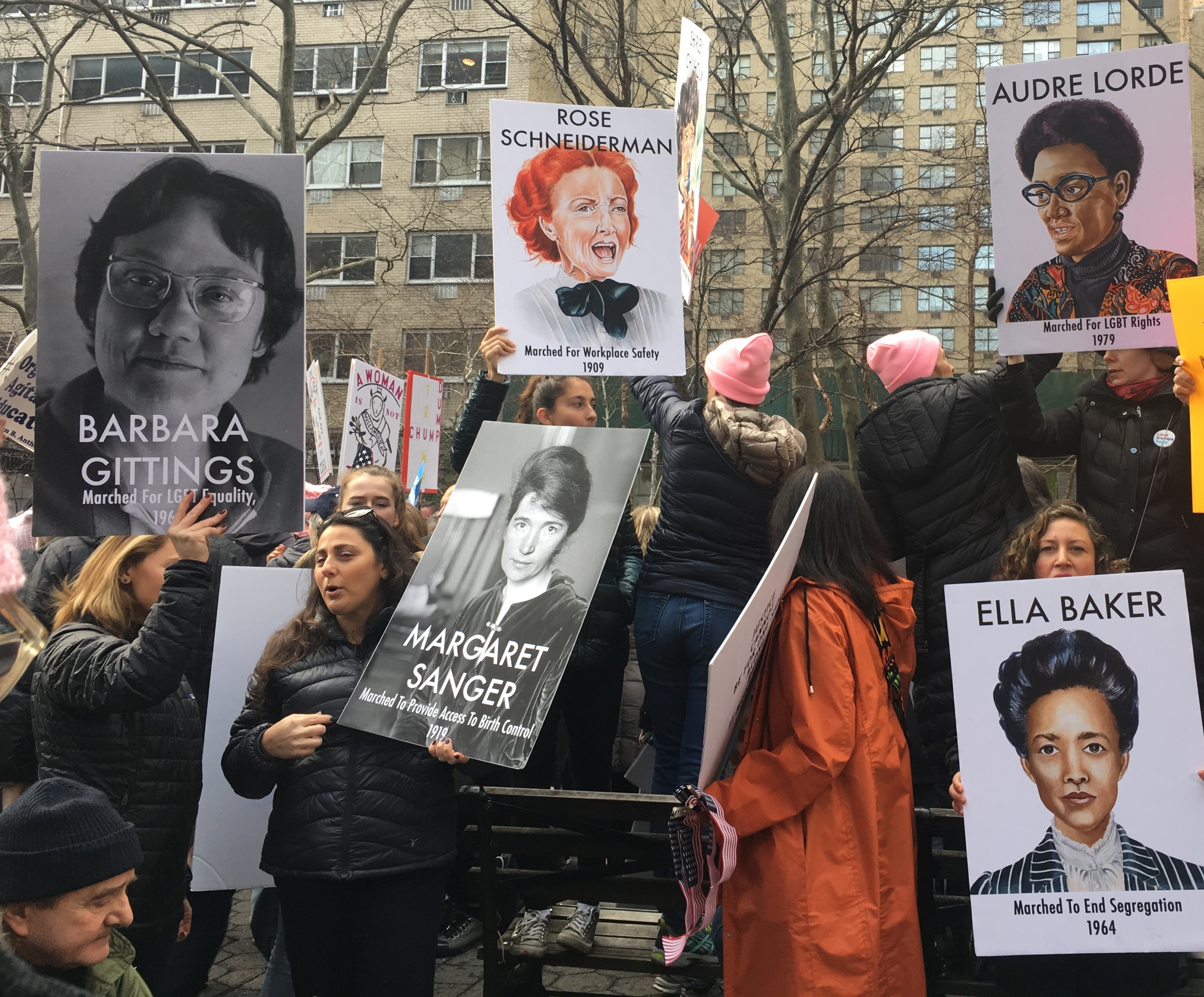 This past year -- 100 years after women won the right to vote in New York -- feminism and the crucial importance of female leadership in political life have once again taken center stage. For Women's History Month, discover the often untold stories of feminist activists and their struggles and triumphs over the last century, from the suffrage movement of the 1910s and the politicos of the 1930s, to the women's liberation movement of the 1960s and women's activism in our own time. This afternoon symposium celebrates our current exhibition, Beyond Suffrage: A Century of New York Women in Politics.

Keynote Speaker: 
Samhita Mukhopadhyay, new Executive Editor of Teen Vogue and co-editor of the 2017 book Nasty Women: Feminism, Resistance and Revolution in Trump's America

Moderator: 
Julie Scelfo, author of The Women Who Made New York (2016), and contributor to The New York Times
Speakers: 
Susan Goodier, Lecturer in American History, SUNY Oneonta
Farah Jasmine Griffin, Professor of English and Comparative Literature and African-American Studies, Columbia University
Elisabeth Israels Perry, Professor of Women's Studies
Premilla Nadasen, Professor of History, Barnard College

After the panel, join us for a free coffee-fueled Feminist Wikipedia Edit-a-Thon, which aims to expand and improve the historical record of feminist activism. For more information and to sign up click here.

Timeline: 
1:00 pm – "A City Made By Women" symposium begins (ticketed event) 
2:50 pm – A City Made By Women" symposium concludes
3:00 pm – Wikipedia Edit-a-Thon begins with a training session for new Wikipedia editors
5:30 pm – Wikipedia Edit-a-Thon concludes
6:00 pm – Museum closes

About the Speakers:
Susan Goodier is the author of Women Will Vote: Winning Suffrage in New York State (Three Hills, 2017). She is a scholar who focuses on U.S. women's activism from the period of the Civil War through the First World War. Goodier teaches women's history courses at SUNY Oneonta and serves as book review editor for the New York History journal.

Farah Jasmine Griffin is the author of Harlem Nocturne: Women Artists and Progressive Politics During World War II (Civitas Books, 2013). She is the William B. Ransford Professor of English and Comparative Literature and African-American Studies at Columbia University. Her major fields of interest are American and African American literature, music, history, and politics.

Elisabeth Israels Perry is the author of Women, Politics, and Power in La Guardia's New York (forthcoming). She is an author and historian who has published many books and articles on women's history, American history, and French history. Perry has taught at many colleges and universities, most recently at St. Louis University as a professor of women's studies.

Premilla Nadasen is the author of Household Workers Unite: The Untold Story of African American Women Who Built a Movement (Beacon Press, 2015). She is a professor of history at Barnard College where she teaches, researches, and writes about race, gender, social policy, and organizing. Nadasen is also a Distinguished Lecturer for the Organization of American Historians.

Julie Scelfo (moderator) is the author of The Women Who Made New York (Seal Press, 2016). She is a former staff writer and current contributor to The New York Times, where her stories about society and human behavior reframe popular ideas and ask us to rethink our basic assumptions. Previously, Scelfo was a correspondent at Newsweek. 
$20 for adults | $15 for seniors, students & educators (with ID) | $10 for Museum members
Includes Museum admission.
Members: To receive your discount, click on the "Buy Tickets" button above, then sign in to your account on the ticketing page.
Groups of 10 or more get discounts; contact us at programs@mcny.org or 917.492.3395.
Accessibility: Assistive listening devices are available and our auditorium wheelchair lift can accommodate manual and motorized wheelchairs (max. capacity 500 lbs). Please contact the Museum at 917.492.3333 or info@mcny.org with any questions.
Our Partners
Programs offered in conjunction with Activist New York are made possible by The Puffin Foundation. Activist New York is the inaugural exhibition in The Puffin Foundation Gallery, which is dedicated to the ways in which ordinary New Yorkers have exercised their power to shape the city's and the nation's future.