Past Event: The Butterfly and the Ashcan: The Impact of Whistler on The Eight and Their Circle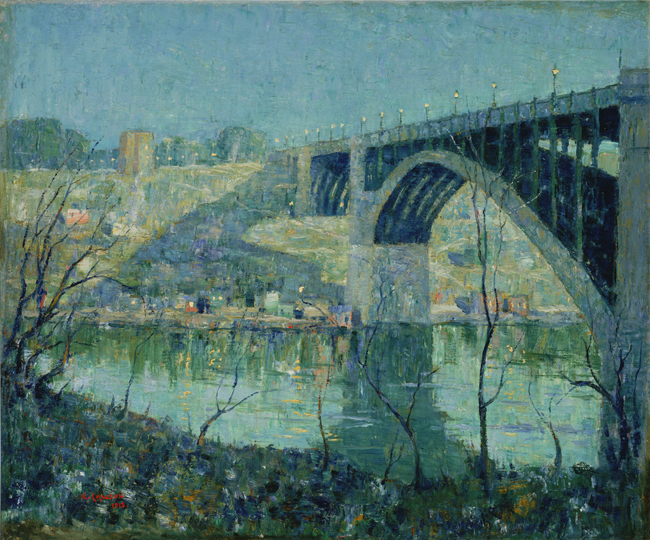 Please note online registration is now closed for this event.
Seating for ticket holders will be on a first come, first served basis. Latecomers may be seated in a separate overflow theater to watch a simultaneous broadcast of the program. 
A wait list will start at 5:45 pm on the night of the program. It is not guaranteed that any seats will become available.
Most of the artists comprising The Eight – William Glackens, Robert Henri, Ernest Lawson, Maurice Prendergast, Everett Shinn, and John Sloan – were influenced by the nineteenth-century American artist James McNeill Whistler, as were their close friends Alfred Maurer and George Bellows. Whistler was an extraordinarily prominent artist, so positing him as an inspiration may seem obvious. However, these painters – advocates of urban realism and members of what is known as the Ashcan School – are often presented as countering the aesthetic approach epitomized by Whistler. In truth, they were admirers and emulators rather than denigrators. Whistler's life and work were essential to them, as Avis Berman, noted writer and art historian, will illustrate using comparative examples of paintings and works on paper. 
Avis Berman is an independent writer and art historian who has written extensively on painting, sculpture, photography, design, and museum history. She is the author of several books including Rebels on Eighth Street: Juliana Force and the Whitney Museum of American Art as well as articles and reviews in magazines, newspapers, and museum catalogues. Berman has also sustained a parallel career as an oral historian in the visual arts and organized and oversaw the first museum survey of William Glackens's work in nearly fifty years. 
Complimentary reception with beer, wine, and hors d'oeuvres to follow.
Free but pre-registration required, includes Museum admission.
Co-Presenter
This is a special program presented free of charge by the Sansom Foundation, Inc., a nonprofit organization that supports numerous causes. Since 2001, the Foundation has held a series of scholarly lectures to celebrate and commemorate the leadership of the late C. Richard Hilker, its past President.